Fun is doing something that you truly enjoy. It doesn't necessarily mean going out and partying. You could be sitting indoors, reading a good book, chatting with your favorite person or listening to good music and still be having fun.
When you are having fun, you are free of thoughts, you become completely immersed in the activity. This is why you should make fun a priority in your life.
Here are 84 quotes that will motivate you to loosen up and have more fun in life.
"The best advice I ever received came from my mother: "Do at least one fun thing every day."
― Clifford Cohen
---
"One of the best ways to make other people happy is to be happy yourself."
― Gretchen Rubin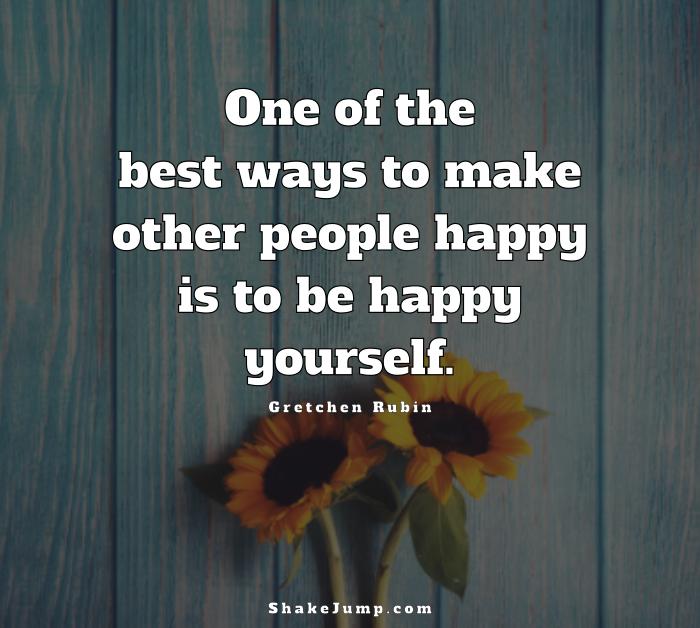 ---
"People rarely succeed unless they have fun in what they are doing."
― Dale Carnegie
---
"Have fun, even if it's not the same kind of fun everyone else is having."
― C.S. Lewis
---
"Without the element of fun, it's not worth trying to excel at anything."
― Magnus Carlsen, Chess Grandmaster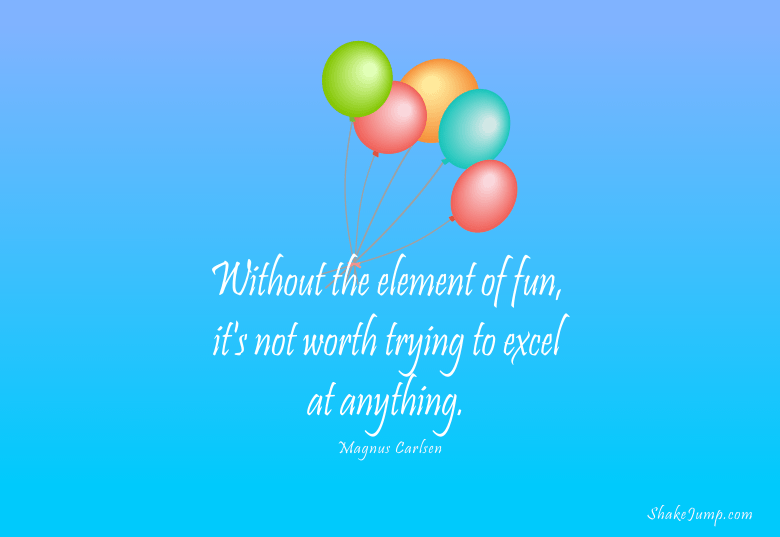 ---
"Everything we're doing is freaking iffy. That's what makes it so much fun."
― John Sandford
---
"Fun is closely related to Joy – a sort of emotional froth arising from the play of instinct."
― C.S. Lewis
---
"Sometimes, the simple things are more fun and meaningful than all the banquets in the world."
― E.A. Bucchianeri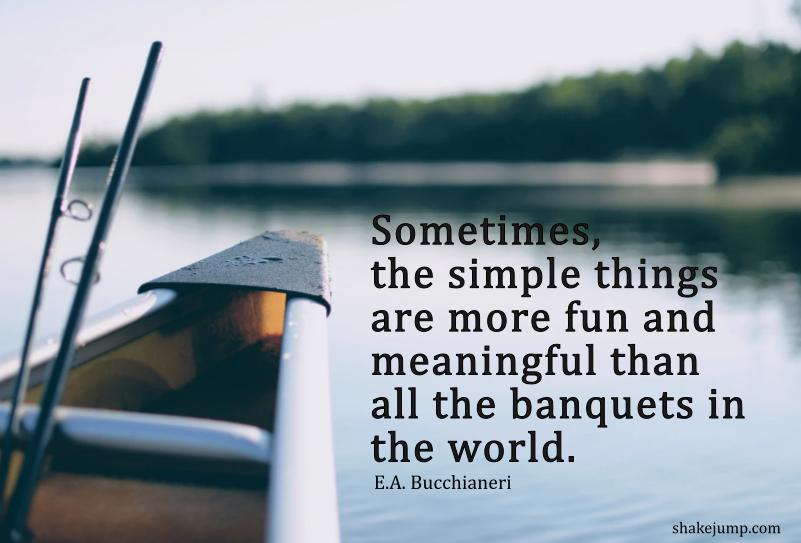 ---
"We are game-playing, fun-having creatures, we are the otters of the universe."
― Richard Bach (Illusions: The Adventures of a Reluctant Messiah)
---
"I had too much fun was no one's last regret ever."
― Jonathan Heatt
---
"Sometimes you just have to jump in a mud puddle because it's there. Never get so old that you forget about having fun."
― Tom Giaquinto (Be A Good Human)
---
"People who achieve the greatest success are the people who have the most fun getting there."
― John Patrick Hickey (On The Journey To Achievement)
---
"You can't put a price on fun; it's always priceless."
― Stanley Victor
---
"Happiness is a collection of joyful experiences shared with soul friends. Get together and have some fun!"
― Amy Leigh Mercree
---
"Don't take life too seriously! Nobody gets out alive anyway. Smile. Be goofy. Take chances. Have fun. Inspire."
― Dawn Gluskin
---
"Life is a great big canvas; throw all the paint you can on it."
― Danny Kaye
---
"Life is too short not to nurture your inner child. Make sure in your busy life of "To Do Lists" that you make time to have fun!"
― Jennifer Gamboa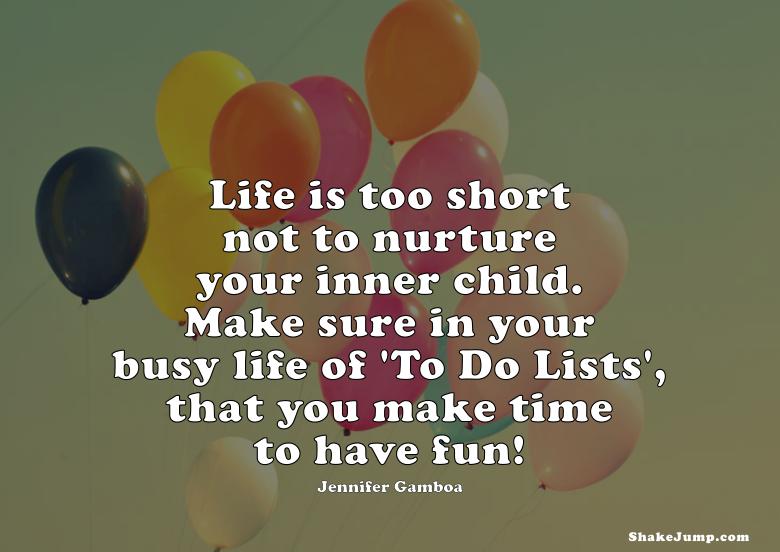 ---
"Fun is not an activity, it is a state of mind."
― Bryant McGill
---
"You must learn to enjoy life and have fun doing what you love."
― Lailah Gifty Akita
---
"Don't let the day go by without a handful of fun, for only those will be memorable and even intensified through time."
― A.M.M Alusi
---
"Fun is not to be planned. It is to be found."
― Ihsan
---
"I believe in having fun first, and along the way, if you teach people, if you influence people, well and good."
― Ray Bradbury
---
"Do not let anyone tell you that these people made work of play. They simply realized that the most fun lies in seeing and studying the unknown."
― Aldo Leopold
---
"Have fun! Live it up! Be happy! Enjoy every moment!"
― lei
---
"Every girl needs a bit of whimsy to remind her that life is a game and it's all about having fun."
― Candace Havens
---
"Judge not, lest ye miss out on all the fun."
― Eric Micha'el Leventhal
---
"Not everything in life has to be about finding "The One." Sometimes a girl just wants to have fun."
― Mandy Hale (The single woman)
---
"What's fun for other people may not be fun for you and vice versa."
― Gretchen Rubin
---
"We must not only obtain Wisdom: we must enjoy her."
― Marcus Tullius Cicero
---
"We classify too much and enjoy too little."
― Okakura Kakuzō
---
"Though it may feel otherwise, enjoying life is no more dangerous than apprehending it with continuous anxiety and gloom."
― Alain de Botton
---
"You live and then you die, I thought. It's good to have some good times."
― Natalie Goldberg
---
"It's okay to feel good."
– Knaan
---
"There is no necessity to do anything that doesn't bring you some form of satisfaction or enjoyment."
― Steven Redhead
---
"In all of living, have much fun and laughter. Life is to be enjoyed, not just endured."
― Gordon B. Hinckley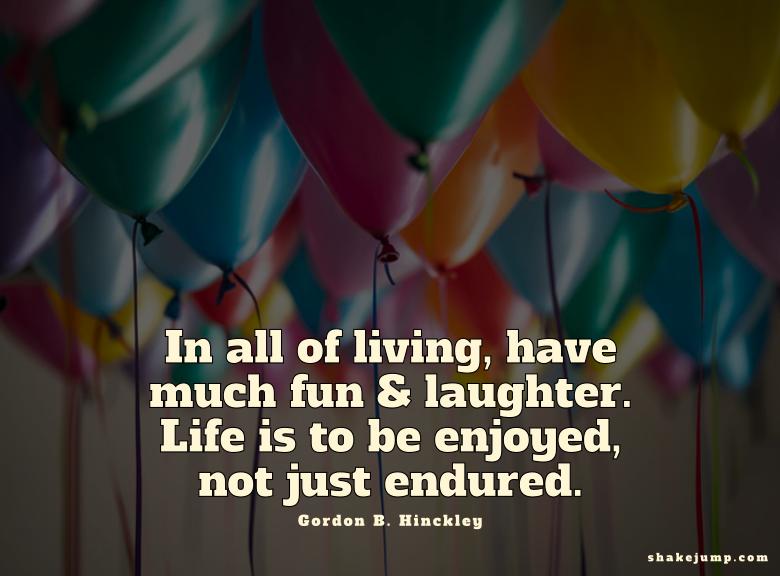 ---
"It took me over three decades to realize you're not supposed to think about paintings, flowers, or God, you're supposed to merge with them."
― Pete Holmes
---
"The happiest person: he enjoys everything without wanting to possess anything."
― Marty Rubin
---
"Never, ever underestimate the importance of having fun."
― Randy Pausch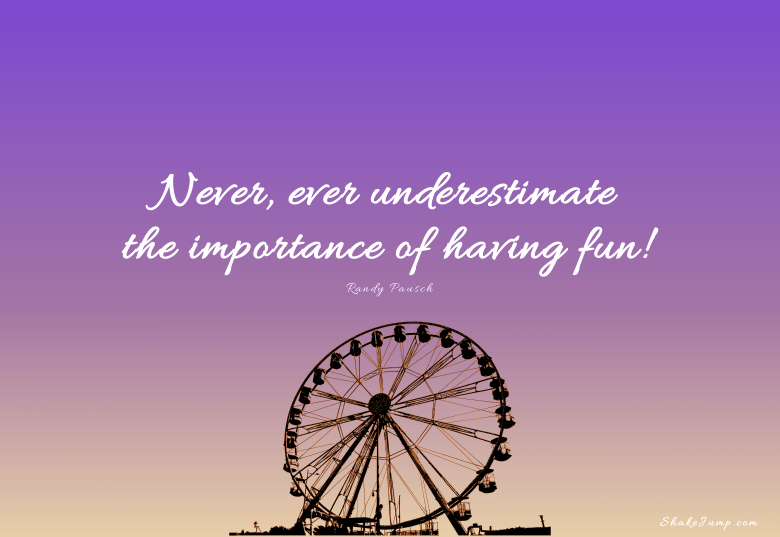 ---
"A person must never cease striving to enjoy life. It takes wit, interest, and energy to be happy."
― Kilroy J. Oldster
---
"There is only one way to escape the madness of this world, and that is to enjoy it."
― Marty Rubin
---
"For it isn't just moments of happiness, which is all I thought we got. It's happiness that spreads."
― Maggie Nelson
---
"Don't grieve over the past, It's all gone! Don't worry about the future, It may never come! Live in the present, And enjoy every moment."
― Mouloud Benzadi
---
"We were meant to enjoy life, not be drowned by it."
― Donald Miller
---
"We seek knowledge only because we desire enjoyment, and it is impossible to conceive why a person who has neither desires nor fears would take the trouble to reason."
― Jean-Jacques Rousseau
---
"I know it is wet and the sun is not sunny, but we can have lots of good fun that is funny."
― Dr. Seuss
---
"There is no pleasure in having nothing to do; the fun is having lots to do and not doing it."
― Andrew Jackson
---
"Sometimes, it's better to bunk a class and enjoy with friends, because now, when I look back, marks never make me laugh, but memories do."
― A.P.J. Abdul Kalam
---
"Go and play. Run around. Build something. Break something. Climb a tree. Get dirty. Get in some trouble. Have some fun."
― Brom
---
"We are never more fully alive, more completely ourselves, or more deeply engrossed in anything, than when we are at play."
― Charles Schaefer
---
"Fun is at the core of the way I like to do business and it has been key to everything I've done from the outset. More than any other element, fun is the secret of Virgin's success."
– Richard Barnson
---
"Encourage kids to enjoy running and play in athletics. Don't force them to run too much competition."
― Arthur Lydiard
---
"Life is brighter on the lighter side."
― L.M. Fields
---
"Life should be about having fun, about really finding what we do to be enjoyable, not a chore that we have to reluctantly drag ourselves out of bed every morning to do."
― Mango Wodzak
---
"I am going to keep having fun every day I have left because there is no other way of life. You just have to decide whether you are a Tigger or an Eeyore."
― Randy Pausch
---
"Never dismiss old people having fun; you will be one of them eventually if you're lucky."
― Carmine Savastano
---
"When it comes to the bigger life decisions, we must have the wisdom to choose joy, no matter how fun the alternative."
― Augustine Wetta
---
"There's no fear when you're having fun."
― Will Thomas
---
"When you have confidence, you can have a lot of fun. And when you have fun, you can do amazing things."
― Joe Namath
---
"If the universe is anything, it should be fun."
― Neil deGrasse Tyson
---
"Play is my Way. Fun is my destiny. Love and joy are my religion."
― Victor Shamas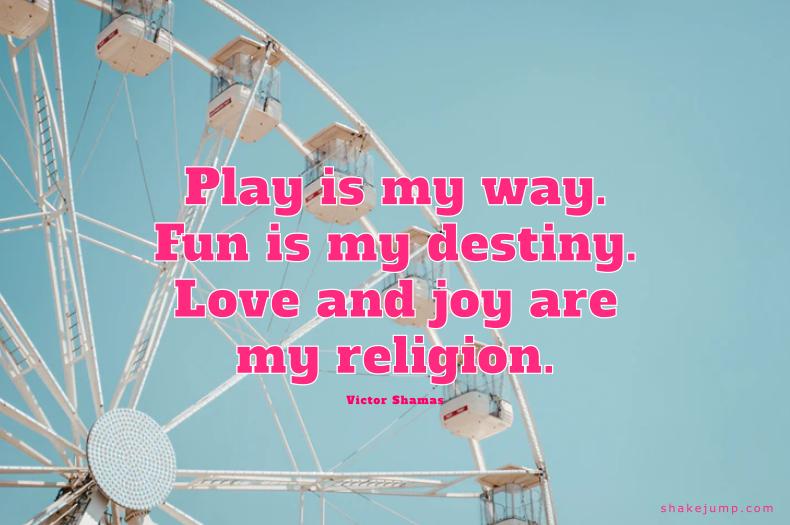 ---
"Enjoy the adventure of existence."
― Lailah Gifty Akita
---
"Be happy, be fun, let your hair down and be AGELESS!"
― Margo Vader
---
"There are no rights and wrongs. Just lessons, lessons and more lessons. With hopefully a little fun in-between."
― Brownell Landrum
---
"Happiness is important. Fun is everything."
― Ray Bradbury
---
"The more you focus on fun, the more fun you have."
― A.D. Posey
---
"Fun is not over-rated."
– It's Complicated
---
"In every job that must be done, there is an element of fun. You find the fun and 'snap', the job's a game."
– Mary Poppins, 1964
---
"Mistakes are beautiful, baby. Mistakes are part of the fun."
– Unknown
---
"There are only four reasons to take a gig: for the money, for the connections, for the experience, or just for the fun."
– The Wrecking Crew
---
"You've got to embrace your inner strange. When you do that, you bring who you are, never who they want. And that, my friend, is when it gets fun."
– Everybody Wants Some!
---
"Creativity is intelligence having fun."
― Albert Einstein
---
It is fun to have fun but you have to know how."
― Dr. Seuss
---
"When we find someone who is brave, fun, intelligent, and loving, we have to thank the universe."
― Maya Angelou
---
"When you are joyful, when you say yes to life and have fun and project positivity all around you, you become a sun in the center of every constellation, and people want to be near you."
― Shannon L. Alder