The following is our list of 24 humans who lived well beyond the age of 100 and their longevity secrets.
At the end of the article, we give our verdict of what the ultimate secret to a long life is. So make sure to read till the end.
Longevity Secrets of 24 Super-centenarians
1. Bernando LaPallo
— 114 years (17 August 1901 – 19 December 2015 )
Bernando LaPallo was a supercentenarian resident of Arizona who lived up to 114 years before passing away peacefully in his sleep on December 19, 2015 (after completing his daily routine of walking 2 miles).
He is also the author of the book, 'Age less, live more' published in the year 2009 and 'Beyond 100 – How to Live Well Into Your Second Century' published in the year 2015.
Bernando's secret to longevity: Bernando used to live by the quote, 'you are what you eat' – wisdom passed on to him by his dad.
He attributes his longevity to eating plenty of fresh fruits and veggies, avoiding red meat and junk food, drinking plenty of water, exercising, relaxation and getting proper rest.
Bernando was also an early to bed, early to rise kind of a person and used to sleep at 9:30 pm and get up by 3:30 am to go for a w mile morning walk.
He swears by the wonders of rubbing extra-virgin olive oil all over your body which according to him keeps your skin and joints supple.
In addition to keeping physically fit, he also believed in keeping mentally fit by taking time to relax and engaging in brain exercises like solving crossword puzzles, reading and playing checkers.
He also has mentioned in many interviews about the amazing benefits of consuming Garlic, honey, cinnamon, chocolate and olive oil on a daily basis.
2. Sleiman al- Mal
— claims to be over 125 (unverified)
Sleiman al- Mal from Lebanon is a man who claims to be over 125 year old (claims are unverified). He is also the father of 12 children, the oldest being 75 years old and the youngest only 5 years old!
Whether he is 125 years old or not, he certainly is extremely fit for an old man. He walks over 2 miles every day, cooks, cuts wood and keeps busy. He is also a smoker and has been smoking for over 80 years.
Sleiman's secret to longevity: Sleiman attributes his success to his magic tea that he drinks every day. He makes the tea himself using these four ingredients that he claims can bring a dead man to life. The five ingredients include – Carob, Thyme, Quinoa, Anise. He also believes that physical activity, proper rest and a healthy diet help increase one's life span. Sleiman swears by pure olive oil, honey and goat ghee that he considers an elixir for good health and long life.
3. Walter Breuning
— 114 years and 205 days (September 21, 1896 – April 14, 2011)
Walter Breuning, a resident of Montana, United States was recognized as the oldest man living between July 18, 2009 and April 14, 2011. He lived up to 114 years.
Walter's Secret longevity: In an interview taken when he was 110, Walter says the secret to a long life is to Keep your mind and body moving all the time. In other words, plenty of physical activity for the body and mental activity for the mind.
Walter performed daily calisthenics almost till the end and kept himself occupied mentally by listening to the radio. Interestingly, Walter dressed in a suit and tie every single day!
4. Fauja Singh
– 107 year old as of 2018
At the age of 101, Fauja Singh completed the 26.2 mile London marathon in 6 hours and 54 minutes! Isn't that amazing?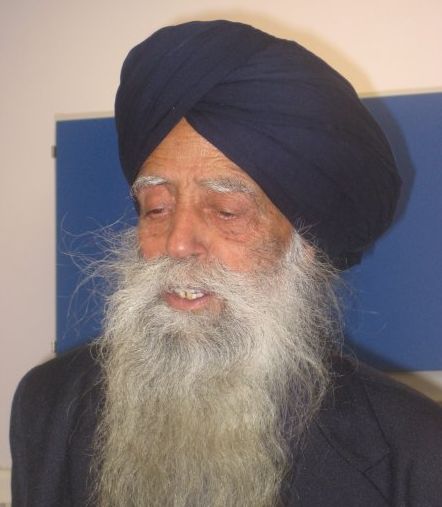 Fauja Singh was also featured in an advertising for Adidas alongside David Beckham and Mohammad Ali in the year 2004.
Today, Fauja is 108 (in 2019) and is still going strong!
The following is a video of Fauja singh completing the London marathon.
Fauja Singh's secret to a long life: Fauja attributes his fitness and long life to two things – following a simple vegetarian diet and eating in moderation. He eats what he calls 'child portions' or less than half of what an adult would typically eat. His diet consists of phulka(wheat bread), pulses, green vegetables, yogurt and milk. He also drinks a lot of water and loves his ginger tea.
Fauja goes to bed early and prays before bedtime to keep his mind free from negative thoughts. To keep fit, he walks four hours every day!
The best part is that he refrains from taking any form of medication and when he does get ill, he lets his body heal by taking enough rest and eating a light meal of porridge and other easy to digest foods.
5. Grace Jones
— 113 years and 342 days (7 December 1899 – 14 November 2013)
Grace Jones was a British super-centenarian who lived up to 113 years and is the oldest verified living person in the United Kingdom.
Secret to her long life: Grace attributes her long life to avoiding stress in life and staying free from negative thinking. She was also very particular about taking a tot of whiskey mixed with water every night that she believes kept her hale and healthy. She also eat only fresh foods and avoided anything frozen.
6. Richard Overton
– 112 years as of 2018
Richard is an American supercentenarian who is currently 112 years old and is the oldest verified surviving U.S. war veteran. He served in the United States Army during World War II. He currently resides in Austin, Texas.
Richard Overton's secret to long life: Richard believes that being happy as in doing what feels good and keeping stress at bay are the keys to a long life. Stress he believes is the ticket to an early grave. Overton eats ice-cream every night, smoke fat cigars (although he never inhaled the smoke), 4 cups of coffee and whiskey every day.
7. Jack Reynolds
Jack Reynolds is an Derbyshire resident, who became the oldest man to ride a non-inversion rollercoaster at the age of 105. He is also the oldest man to complete the ice bucket challenge.
Jack Reynolds's secret to long life: Jack credits his long life to drinking whiskey on a daily basis. Jack has whiskey with his tea in the morning and two shots of Grouse (scotch whiskey) with lemonade at night. He also believes in hard work and sticking to a routine when it comes to eating and taking rest.
8. Jiroemon Kimura
— 116 years and 54 days (19 April 1897 – 12 June 2013)
Jiroemon Kimura was a resident of Kyōtango, Japan who lived till the age of 116 years and 54 days. Kimura made it to the Guinness World Records twice for being the oldest living man in the world.
Kimura's secret to long life: Kimura attributes his robust health to eating following the 'hari hachi bu' style of eating taught by Confucius. The 'hari hachi bu' teaching instructs people to eat until they are 80% full or 8 parts (out of ten parts) full. In other words, you stop eating before your hunger is completed satiated.
In addition, he also followed a habit of going for long walks early in the morning after waking up.
9. Christian Mortensen
— 115 years and 252 days (August 16, 1882 – April 25, 1998):
Mortensen was a Danish-American super-centenarian and resident of California. U.S., who lived for 115 years and 252 days.
Christian's secret to long life: On his 115th birthday Mortensen gave his secret for a long life and this is what he had to say – "Friends, a good cigar, drinking lots of good water, no alcohol, staying positive and lots of singing will keep you alive for a long time."
10. Frederick Harold Hale Sr.
— 113 years and 345 days (December 1, 1890 – November 19, 2004):
Frederick Harold was an American super-centenarian and a resident of New York who lived up to 113 years a 345 days. He appeared in the Guinness world records at age of 108 was as the oldest licensed driver.
Frederick Hale's secret to long life: Hale credited his long life and health to eating bee pollen and honey every day, along with the occasional nip of whiskey. He also said that bee pollen and honey kept him fit and free from arthritis.
11. Gertrude Weaver
— 116 years (July 4, 1898 – April 6, 2015)
Weaver Was an American super-centenarian from Arkansas, USA who lived till 116 years.
Weaver's secret: Weaver credits her long life to, "Trusting in the Lord, hard work and loving everybody."
12. Besse Berry Cooper
— 116 years (August 26, 1896 – December 4, 2012)
Besse was a resident of Tennessee, U.S., who lived for 116 years.
Besse's secret: Besse credits her long life to "minding her own business" and avoiding junk food".
13. Antonia Gerena Rivera
— 115 years (May 19, 1900 – June 2, 2015):
Rivera was a resident of Florida, United States who lived till the age of 115 years.
Antonia's secret: According to her family, Rivera's secret to a long life was the family genes and regular brandy drinking until she was 110.
14. Susan Elizabeth Gibson
— 115 years (October 31, 1890 – February 16, 2006)
Susan was a resident of Alabama, United States who lived till 115 years and 108 days.
Susan's secret: She credited her longevity to eating pickles, vinegar, avoiding medicine, and doing things that she enjoyed.
15. Delphine Gibson
— 114 years (August 17, 1903 – May 9, 2018)
Delphine as a resident of Pennsylvania, United States, who lived till 114 years and 265 days.
Delphine's secret: Delphine credited her long life to good food, her faith in God, and her church.
16. Goldie Michelson
— 113 years and 335 days (August 8, 1902 – July 8, 2016)
Goldie was a Jewish Russian-American super-centenarian who was a resident of Massachusetts, United States. She lived up to 113 years and 335 days.
Goldie's secret: Goldie credits her long life to taking long walks on a daily basis. In her own words, "I was a great walker – four or five miles every morning, weather permitting. I never used a car if I could walk. One of the great joys of life was when I sold my car."
17. Dominga Velasco
— 114 years and 142 days (May 12, 1901 – October 11, 2015)
Dominga was a Mexican-American super centenarian who lived in Oakland, California who lived for 114 years and 142 days. She is the oldest verified person ever born in Mexico.
Dominga's secret: When asked about her key to aging well, she said, "Be happy".
18. Cora Hansen
— 113 years and 24 days (25 March 1899 – 18 April 2012)
Cora was an American-born Canadian super-centenarian who lived up to 113 years and 24 days.
Cora's secret: she credited her longevity to good genes, regular walks and a lifestyle that avoided cigarettes and alcohol.
19. Jeanne Louise Calment
— 122 years and 164 days (21 February 1875 – 4 August 1997)
Jeanne was a French supercentenarian who has the longest confirmed human lifespan of 122 years, 164 days.
Jeanne's secret: Jeanne attributes her longevity to leading a stress-free life and a daily exercise routine, enabling her to walk without a stick until 114.
20. Nabi Tajima
–117 years and 260 days (4 August 1900 – 21 April 2018)
Nabi was a Japanese supercentenarian who lived for 117 years and 260 days.
Nabi's secret: According to Nabi, her longevity was due to sleeping soundly and eating delicious foods.
21. Emma Martina Luigia Morano
— 117 years and 137 days (29 November 1899 – 15 April 2017)
Emma Martina was an Italian supercentenarian who lived up to 117 years and 137 days. She is till date the oldest Italian person ever and is the second oldest European person.
Emma's secret: Emma owes her longevity to eating three eggs a day, drinking a glass of homemade grappa, and eating chocolates. She also thought positively about the future and always tried to stay worry-free.
22. Chiyo Miyako
— 117 years and 81 days (2 May 1901 – 22 July 2018)
Chiyo was the resident of Yokohama, Japan, who lived up to 117 years and 81 days. She was the world's oldest living person from 21st April 2018 to 22 July 2018.
Chiyo's secret: Chiyo credited her longevity to eating eel, drinking red wine, and never smoking.
23. Emiliano Mercado del Toro
— 115 years and 156 days (August 21, 1891 – January 24, 2007)
Emiliano Mercado was a Puerto Rican supercentenarian who lived up to 115 years and 156 days. He was the resident of Cabo Rojo, Puerto Rico.
Emiliano's secret: Emiliano credited his long and healthy life to eating "funche". Funche is a Puerto Rican dish made from cornmeal, milk and butter and served with codfish stew. He consumed funche every day as a habit.
Mercado also claimed that his sense of humor was probably responsible for his long life, and he would tell jokes and humorous anecdotes almost to the end of his days.
24. Hendrikje "Henny" van Andel-Schipper
– 115 years and 62 days (29 June 1890 – 30 August 2005)
Hendrikje was the resident of Drenthe, Netherlands, who lived up to 115 years and 62 days. She is credited to be the oldest living person in Netherlands.
Hendrikje's secret: Hendrikje credited her long life to eating a serving of herring everyday and drinking orange juice in addition to staying active. She was a non-smoker and light drinker with her favorite drink being advocaat with cream which she used to have once a week.
So what's the ultimate secret to a long and healthy life?
Based on all the answers above, here's what we think the secret to longevity is:
1. Keep yourself physically active
A simple and uncomplicated way to keep physically active is to go for long walks/jogs early in the morning or in the evenings.
2. Keep yourself mentally active
Keep yourself mentally active by reading, solving puzzles, learning new stuff, travel etc.
3. Use liquor as medicine
Drinking a bit of alcohol be it wine, brandy or whiskey in the night does seem to help. You don't need too much. Anywhere around 25 ml should do the trick.
4. Be stress free
Focus on the positive aspects of life and keep your mind worry free.
5. Eat a light meal
Think of smaller portions and getting up before you feel full. Try intermittent fasting every once in a while (once or twice per month or when you feel like it).
6. Eat the right foods
Eat fresh fruits and veggies but at the same time, eat foods that you love eating (albeit in moderation).
7. Spice it up
Include spices that are rich in antioxidants like cinnamon, pepper and cardamom in your daily diet.
8. Do things that feel good
Pursue a hobby, indulge in fun activities and be around people who uplift you.
9. Laugh everyday
Watch a funny movie, read a funny book or even better, do some laughter yoga.
10. Optimize your sleep
Go to bed early and try to wake up early. Try to meditate for a few minutes before bed to calm your mind and body so you get that power sleep.
Hope you found this article inspirational enough to make positive changes into your life, to delay aging and to remain hale and healthy for many years to come. Cheers!