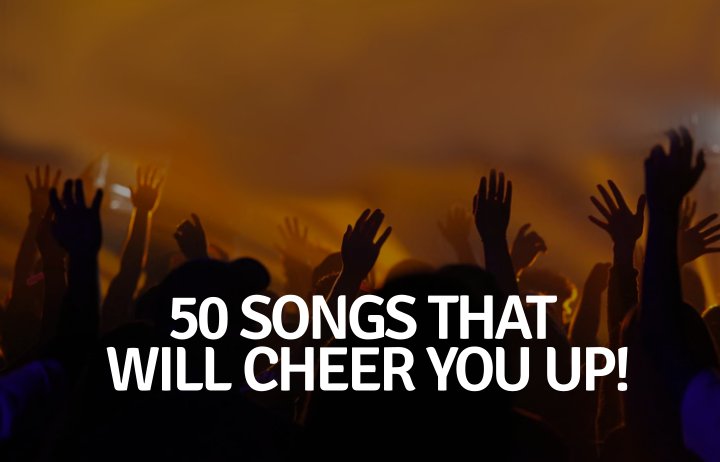 You know those days. We all have them. Nothing seems to go right. You feel like a permanent raincloud is overhead. That you're being weighed down by a million and one things that make you just want to either curl up in a ball and cry or scream really loudly and destroy something; maybe both.
There are lots of things one can do to keep these emotions from completely ruining your day, but one of the easiest and quickest things you can do is listen to some cheer up songs. Listening to music is an emotional journey and the right song can help get you back on track.
Below is an assortment of songs that can help cheer you up. Like everything, what works for some people, will do nothing for the next; so peruse them and compile a playlist of what works for you. Then, the next time you find yourself having a bad day for whatever reason, you'll be prepared to turn your mood around.
1. Madonna – Holiday
The terms 'holiday' and 'celebrate', bring beautiful memories to mind and that's exactly what this song does to you. The song has a nice groove to it and is a pleasure to listen to. A beautiful song that will take away your blues and make you feel good instantly.
As for the lyrics, the entire song is filled with positive verses, but this one in particular is really uplifting – 'You can turn this world around, and bring back all of those happy days, put your trouble down, it's time to celebrate'.
2. Stronger – Kelly Clarkson
'Stronger' by Kelly Clarkson has really catchy beats along with highly motivating lyrics and a powerful chorus – "What doesn't kill you makes you stronger, Stand a little taller. What doesn't kill you makes a fighter, Footsteps even lighter."
3. Good Time – Owl City and Carly Rae Jepsen
We don't even have to try, it's always a good time – that's the main chorus of this lovely song by Owl City and Carly Rae Jepsen. Listen to this song and it is bound to bring a smile on your face.
Best part of this song is it's chorus – "We don't even have to try, it's always a good time!"
4. I Feel Better – Gotye
Gotye is well known for his song "Somebody that I used to know", but he has a host of songs that are just as good or even better. 'I feel better' is just one example of the sheer variety this singer has.
You will fall in love with his vocals and the soulful hook 'I feel better, better than before' is sure to lift your spirits high.
Here's an empowering lyric from the song- "There was a time I was down, I didn't know what to do, I was just stumbling around, thinking things could not improve; that's when you gave me a call, Now I feel better, better, better than before.."
5. Settling – Sugarland
'Settling' is a really heartfelt song about self belief.
This song is filled to the brim with positive vibes and a powerful a chorus – "I ain't settling for just getting by. I've had enough so-so for the rest of my life. Tired of shooting too low, so raise the bar high. Just enough ain't enough this time. I ain't settling for anything less than everything."
Great song to listen to whenever you want a major boost of self confidence and self belief.
6. Natasha Bedingfield – Pocketful of Sunshine
"Do what you want, but you're never gonna break me. Sticks and stones are never gonna shake me."
This song by Natasha Bedingfield is filled with positivity and is sure to cheer you up. The song has empowering lyrics and really catchy beats.
7. "Levels" – Avicii lyrics
If you are a fan of EDM music, this song from Avicii will not let you down. It has a really catchy tune and uplifting lyrics.
8. "I Got a Feeling" – Black Eyed Peas
Beautiful song by the Black Eyed Peas that has a really uplifting chorus – "I gotta feeling that tonight's gonna be a good night."
9. Owl City – Shooting Star
Almost all tracks by Owl City have fresh catchy beats to them and this song is no exception. It also has really positive, empowering lyrics.
Best part of the song: "Fill the darkest night, with a brilliant light, 'cause it's time for you to shine. Brighter than a shooting star, so shine no matter where you are, tonight".
10. The Animal Song – Savage Garden
Really refreshing song from Savage Garden with soothing vocals and an addictive beat that is sure to raise your vibe.
Best part of the song: "I want to live, like animals. Careless and free. I want to run through the jungle with wind in my hair and the sand at my feet".
11. It's My Life – Bon Jovi
This song by Bon Jovi will charge you up with positivity. The song's underlying message is that it's your life and you need to take control of it. This message is reflected in the song's chorus – "It's my life, it's now or never, I ain't gonna live forever, I just want to live while I'm alive."
12. Shake It Off – Taylor Swift
What's the best way to deal with negative energy? Yup, you shake it off. That's exactly what this song by Taylor Swift preaches.
The song has extremely catchy and positive chorus – "The players gonna play and the haters gonna hate. Baby, I'm just gonna shake. I shake it off, I shake it off."
Definitely give this a listen. It will make you come alive.
13. Up! – Shania Twain
'Up' by Shania Twain is one of the most catchiest, positive and enlightening numbers ever. This is definitely the song you need to listen to when you're feeling down and need a boost of positivity.
Here's the chorus of the song – "Up, up, up, can only go up from here. Up, up, up, Where the clouds gonna clear. Up, up, there's no way but up from here."
14. Up, Up and Away – Kid Cudi
A beautifully catchy number by Kid Cudi with a powerful underlying message to ignore the haters and not care about what other people think.
Here's the chorus – "I'll be up up and away, cause in the end, they'll judge me anyway, so whatever".
Whenever you are feeling down, this song is bound to cheer you up.
15. Today My Life Begins – Bruno Mars
Really inspirational mellow song by Bruno Mars that encourages you to let go of the past and always look forward to the future with optimism and self belief.
Here's the motivational chorus of the song – "I will break these chains that bind me, happiness will find me, leave the past behind, today my life begins. A whole new world is waiting, it's mine for the taking, I know I can make it, today my life begins."
16. Rise Up – Yves LaRock
"Rise Up" is a lesser known song but it topped the charts in many European countries when it was released. The song has a really positive vibe to it with a simple yet uplifting chorus – 'my dream is to fly over the rainbow so high'.
17. Higher – Carly Rae Jepsen
'Higher' is a catchy number by Carly Rae that has some really positive lyrics and a chorus which goes – "You take me higher than the rest, everybody else is second best."
18. Shine On – The Kooks
'Shine On' by The Kooks is an awesome song with some really sweet lyrics and a catchy hook that goes – 'Shine, Shine, Shine On', that will cheer you up whenever you are feeling down.
19. Brave – Sara Bareilles
If you are looking for a major boost of self belief then this is the song for you. This song is not only catchy it also is filled with really positive lyrics that are pretty deep and is bound to cheer anyone up!
Here's the power chorus – "Say what you wanna say, and let the words fall out, Honestly I wanna see you be brave."
By the way, there is a version of Brave performed by 'The Maccabeats' which is even better than the original. Check it out here.
20. Lucky Star – Madonna
'Lucky Star' is a really catchy number from Madonna. It has a positive vibe to it and will make you feel good.
Best part of the song – "You must be my lucky star, cause you make the darkness seem so far and when I'm lost, you'll be my guide, I just turn around and you're by my side."
21. Escapade – Janet Jackson
When times are rough, this song by Janet Jackson will help take your mind off your troubles with its positive lyrics and upbeat tones.
Here's the chorus of the song: "Come with me, let's get away. Let's save our troubles for another day. Come with me, we've got it made. Let me take you on an escapade".
22. Born This Way – Lady Gaga
This empowering song by Lady Gaga is all about self love and self acceptance and not worrying about what other people think.
Best part of the song – "I'm beautiful in my way, cause God makes no mistakes. I'm on the right track. I was born this way."
23. 22 – Tyler Swift
Tyler Swift reappears on this list cause this song is almost as good as 'Shake it off' when it comes to uplifting lyrics and beats.
Here's the best part of the song: "I don't know about you but I'm feeling 22, Everything will be alright, if we just keep dancing like we're 22, 22".
24. Shaggy feat. Gary Nesta Pine – Fly High
This is a light-hearted song which has really catchy beats and positive lyrics. The hook "I wanna fly with you baby and just leave the world all behind" is really simple but will leave you feeling relaxed and optimistic.
25. Skyscraper – Demi Lovato
Skyscraper is an empowering song by Demi Lovato that speaks of staying resilient in times of difficulty. This song is filled with powerful lyrics like this one – "Go on and try to tear me down. I will be rising from the ground. Like a skyscraper, like a skyscraper."
26. Adventure Of A Lifetime – Coldplay
Mostly an instrumental that has an insanely catchy tune that makes you feel fresh and alive. The song has a positive chorus – 'You make me feel, like I am alive again'. The video of this song is amazing too.
27. Can't Stop the Feeling – Justin Timberlake
The addictive beats and positive lyrics from this song by Justin Timberlake will raise your vibe and put you in a good mood instantly.
28. Far East Movement – Rocketeer
This song by Far East Movement is filled with positive vibes and has a really uplifting hook, 'let's fly'. This song is sure to lift your spirits.
Best part of the song – "Here we go, come with me, there's a world out there that we should see, take my hand, close your eyes, with you right here, I'm a rocketeer – let's fly".
29. Good Life – OneRepublic
The lovely beats and positive lyrics in this soulful song will rekindle the fire within you and make you want to forget it all and dance. It gives you a sensation of freedom, friendships and adventures.
The song's hook, 'this has gotta be the good life', is bound to put you in a good mood and lift your spirits.
30. K'NAAN – Dreamer
Often times, we start to feel that we do not deserve happiness but this song serves as a reminder that it's "okay to feel good". Plus the song has a lovely beat to it and k'naan's vocals are awesome.
Best part of the song – 'I am a dreamer, but I ain't the only one who got problems but we learn to have fun, we alive man, it's okay to feel good.'
31. Best Years of Our Lives – Baha Men
The Baha Men became popular for their song, 'Who let the dogs out', but this song of theirs is definitely their best. The lyrics sound positive and even though they do not make perfect sense, the music does the job of making you feel uplifted.
32. Feels So Good – Sonique
'Feels so good' is the perfect feel good song. The music and beats are very catchy, and the lyrics are perfect.
Best part of the song: "Your love it feels so good, and that's what takes me high."
33. Tubthumping – Chumbawamba
Tubthumping was released in 1997 by the British band Chumbawamba and was reigning supreme on the charts in a host of countries. The nature of this song is such that some people find it extremely annoying and others find it insanely inspirational.
The song has a simple yet powerfully uplifting chorus – "I get knocked down, but I get up again, you're not ever gonna keep me down."
If you have never heard this before, give it a listen, and you just might fall in love with it.
https://www.youtube.com/watch?v=QOe8H_7ibVY
34. Am I wrong – Nico & Vinz
Beautiful song that encourages you to think out of the box and stay unique. That you need not be pressured to follow what other are doing and that you can have your own style.
Best part of the song – "I ain't trying to do what everybody else doing, just cause everybody else do what they all do."
35. Try Everything – Shakira
This song of Shakira has a really good vibe to it with a simple message of not giving up as reflected by this chorus – "I won't give up, till I reach the end, and then I'll start again. Though I'm on the lead, I wanna try everything. I wanna try even though I could fail. I won't give up till I reach the end".
36. Fight Song – Rachel Platten
If you are going through tough times in life and want a massive shot of motivation then this song will not let you down. Rachel has a powerful voice which coupled with the amazing lyrics makes this song one of the best motivational songs ever.
Best part of the song: "This is my fight song, take back my life song, prove I'm alright song. My power's turned on, starting right now I'll be strong, I'll play my fight song, and I don't really care if nobody else believes, 'cause I've still got a lot of fight left in me".
37. Firework – Katy Perry
Katy Perry's amazingly powerful vocals coupled with the inspirational lyrics make this one of the best pick me up songs ever.
Best part of the song: "Maybe a reason why all the doors are closed, so you can open one that leads you to the perfect road. Like a lightning bolt, your heart will glow, and when it's time, you'll know".
38. Unwritten – Natasha Bedingfield
Natasha Bedingfield makes it to this list once again with 'Unwritten' which is another super inspirational song. The song conveys a deep message that it's okay to feel lost and confused and that life will eventually show you the way if you continue moving forward.
Best part of the song: "Drench yourself in words unspoken. Live your life with arms wide open. Today is where your book begins. The rest is still unwritten".
39. One More Time – Daft Punk
A timeless song with really peppy beats and positive lyrics.
Best part of the song: "One more time we're gonna celebrate, oh yeah, all right, don't stop the dancing."
40. Love generation – Bob Sinclar
This song is all about feeling love not only for others but also for yourself. The song has a nice relaxing vibe to it coupled with beautiful vocals.
Best part of the song: "Just look to the rainbow, you will see, Sun will shine 'till eternity. I've got so much love in my heart. No one can tear it apart".
41. Dance With Me – Orleans
Beautiful mellow number that has really uplifting lyrics and a positive vibe throughout. This retro song will make you feel relaxed and happy.
Here's the best part of the song – "Dance with me, I want to be your partner. I feel free, I hope that you are willing. Pick the beat up, and kick your feet up. Let it lift you off the ground. Starry eyes, and love is all around us. I can take you where you want to go."
42. Love Sensation – 911
Just a fun playful song with a really uplifting beat and music and a simple yet inspiring chorus – "Don't get changing, rearranging, hold on to your love sensation."
43. I am Alive – Electric Light Orchestra
This song by ELO is a combination of powerful vocals, uplifting lyrics and positive vibes. This classic is bound to make you feel free and cheered up.
Best part of the song: "I'm alive – and the world shines for me today. I'm alive – suddenly I am here today. Thought I could never feel this way. Is this really me? I'm alive, I'm alive."
44. Dancing Queen – Abba
Slow, melodious number from Abba that will put you in the mood to dance.
Best part of the song: "You can dance, you can jive, having the time of your life. Ooh, see that girl, watch that scene, dig in the dancing queen".
45. Good vibrations – Beach boys
There is so much positivity in this song it could make a cold rainy day feel like sunshine! A great song that has the potential to cheer anyone up.
Best part of the song: "I'm pickin' up good vibrations, She's giving me the excitations".
46. Happy by Pharrell Williams
Happy" by Pharrell Williams definitely lives up to its title. It will make you feel happy and positive.
This song has an extremely positive vibe to it and can become infectiously addictive (in a good way). It has a really catchy hook – 'because I'm happy'. And you will find Pharrell's vocals really soothing as if he is talking to your soul.
47. Staying Alive – Bee Gees
Not necessarily an inspirational song or a song with great lyrics, Staying Alive still has positivity written all over it. The amazing vocals and the hip tunes make this evergreen song a great mood lifter.
48. Céline Dion – That's The Way It Is
Peppy song from Celine Dion that has the underlying message of self belief.
Best part of the song: "When you're ready to go and your heart's left in doubt, don't give up on your faith, love comes to those who believe it. And that's the way it is".
49. No Matter What – Boyzone
Slow, mellow song with a powerful message of self belief and not worrying about what other people think.
Best part of the song: "No matter what they tell us, no matter what they do, no matter what they teach us, what we believe is true".
50. Coldplay – A Sky Full Of Stars
This song by Coldplay has a really positive vibe to it. The tunes are ethereal and will uplift your mood instantly.
Best part of the song is the chorus: "Cause you're a sky, 'cause you're a sky full of stars. I'm gonna give you my heart".
Want a song included to this list? Do let us know in the comments below.