Looking to buy the perfect Christmas gift for your husband or boyfriend? Well, this is the only gift guide you will need. This guide is contains a list of 100 curated gifts that any guy will love to receive.
Our personal favorites are gifts number 20 and 88.
If you are looking for some cute gifts for your boyfriend then check out this article instead.
1. Premium leather slim wallet
If your husband carries a bulky folding wallet then help him out by getting him this cool slim leather wallet. This wallet holds 6 credit cards, cash and an ID. Plus it comes with a romantic print that reads, 'I loved you then, I love you still, always have, always will'. This is sure to become his new favorite wallet.
2. Engraved pocket watch
Beautiful watch with an equally beautiful engraving.
3. 37-in-1 Wallet Tool Card
There are many multitool cards in the market but this one beats them all. This card has 32 different tools also also comes with a Sleeve Cover, Firestarter, Emergency Whistle, Money Clip, Carabiner and a Keyring. All of this comes neatly packed in a beautiful gift box. Once you get him this, he is sure to throw his old multicard out and replace it with this one.
4. The Dad Book
This books is filled with hilarious jokes, funny parenting hacks and dad-isms that will get his laughing hysterically on Xmas morning. Perfect gift for a new dad.
5. Stainless steel Pocket knife with custom engraving
This simple yet elegant pocket knife comes with a stainless steel blade and a clip so you can attach it to your jeans/belt for easy carry. The best part is that this product supports custom engraving where you get to engrave your husband's name or a message on the handle. Perfect if your husband is an outdoors guy.
6. Lightweight Apron With A Funny Print
This is a lightweight apron made from premium cotton and polyester that features a funny caption upfront.
Perfect if your man loves to grill or cook.
7. Winter Fleece Neck Warmer
This is a double-layered neck warmer, that will keep him warm and comfy all day long. The first layer is made of polar fleece that will keep him warm and the second layer is made of microfiber that helps keep things nice and dry. He is bound to love this one for christmas.
8. Hands Free Portable Neck Fan
This neck fan has 3 speed settings that will keep him cool even in the hottest weather. The direction of the fans can be changed to adjust the wind direction. Perfect for outdoor concerts, golf, fishing and camping. This can make for a great gift especially if your husband or boyfriend sweats easily when outdoors.
9. LED Neck Reading Light
This LED reading light can be worn around your neck and comes with 6 brightness levels (and three color temperature modes). The arms are bendable so you can direct the light exactly where you need illumination. Perfect for reading, camping, repairing etc.
10. Whiskey Decanter Set With Two Glasses
This beautiful handmade crystal glass decanter has a unique design and even has a model of a ship inside that adds to the overall look. It comes with two old fashioned whiskey glasses. Apart from whiskey, you can use this decanter for any type of alcohol be it vodka, rum or tequila.
11. Large Toiletry Bag for Men
Every man needs a toiletry bag and this one is the best of the lot. It has two compartments where you can keep wet and dry items. It also has multiple pockets inside and is large enough to contain everything that he intends to fit in.
12. Wooden Charging Station & Organizer
Help your husband get organized by getting him this beautifully designed wooden charging station. This station has enough space for his wallets, glasses, watches, keys, stationary and smartphones.
13. 23 Piece Mixology Bartender Kit
If your man likes mixing drinks then he will love this bartender kit. This is a complete kit that comes with a bamboo stand, leak-proof shaker, mixology tools and even a cocktail recipe book.
14. Magnetic Wrist Band
This innovative wristband comes fitted with powerful magnets that can easily hold a wide range of drilling accessories be it screws, nails, drill bits, washers, nuts and more. Helps make repairs around the house and DIY projects so much easier. This is the perfect gift for a handyman.
15. Portable Electric Lunch Box (Food Heater)
Give your man homemade food that he can heat on the fly by getting him this portable electric lunch box. No more eating junk food or waiting in long lines to get his food heated. This is perfect for offer and travel and comes with two adapters so it can be powered using regular home plugs or using your car's power outlet.
16. Hand-Blown Wine decanter
If your man loves wine, then he will love you for getting him this beautiful U shaped hand blown wine decanter. This can be used to decant red or white wine and will make for the perfect addition to his barware.
17. Slide buckle belt
This easy to use slide belt is the perfect dress belt for any man. The great thing about this belt is that you can easily trim the length to your required size so you get the perfect fit. Plus, it comes with a buckle system that is super easy to use and works perfectly.
18. Portable speakers
This bluetooth speaker products crystal clear sounds and has a 100 Ft wireless range. It even comes with a downward facing bass radiator that greatly enhances bass output.
19. Adjustable Laptop Bed Tray Table
Make working at home comfortable for your husband by getting him this adjustable laptop bed tray table. This table has various adjustments (height, tilt, etc.) that allows him to work anywhere he wants, even from his couch. It is also large enough to accommodate a 17 inch laptop and a mouse.
20. Moon Whiskey Glasses
Whiskey glasses don't get any more elegant than these glasses that comes with a detailed screen print of a full moon on the side. The best part is that the moon looks very light when the glass is empty and starts to appear when poured with scotch. Any man would be more than delighted to have this set.
21. Whiskey Stones Gift Set
These classy looking stainless steel ice cubes are designed to stay cold for a long time and will keep his drink nice and chill without diluting it. The set comes with ice cubes, coasters and ice tongs making this the perfect gift for any man.
22. Marble Run Kit 3D Wooden Puzzle
If your man loves to make things and doing puzzles then he will be overjoyed with this 3D puzzle. This puzzle is made of wood and the pieces are precision cut to fit into each other perfectly without the need for any glue. Plus, the end result is not only stunning but is also a fully working marble run model.
23. Tesla Coil Lighters USB Rechargeable Windproof
This Tesla coil lighter is here to take the mess out of lighters. Press a button and the lighter produces an electric arc that stays on irrespective of the wind. Plus it comes with a safety lid to ensure it does not turn on on its own. Charge the lighter once and it is good for 100 to 300 uses. Perfect replacement for his old gas lighter.
24. Cute 3D Puzzle Ball
This is a cute puzzle that is both hard to take it apart and hard to put together. Can lead to hours of fun on Christmas mornings.
25. Smoking Gun Portable Smoker Infuser
If your man loves the take of smoked food then he will love this portable smoking gun. This gun uses cold smoke and can be used to add smoky flavor to meat, cocktails, cheese, fish and veggies.
26. Siastu Back & Neck Pillow Massager
This Siastu back massager will give you a massage unlike anything you have ever experienced right at the comfort of your home. It has a deep-kneading action that helps relive body aches, removes knots and relax muscles. Can be placed in various positions and even hard to reach areas of your back and neck. Simply perfect especially if your husband loves massages.
27. Multitool LED Flashlight
This cool LED flashlight comes with 12 handy tools that include a glass breaker, seat belt cutter, knife blade, screwdriver, scissors and a bottle opener. Perfect for an outdoors guy.
28. Geber Dime Multitool
A multitool can always make for a great man gift. This one by Geber in particular comes with 12 well made tools that include scissors, pliers, bottle opener, package opener, tweezers, drivers, lanyard, blade and wire cutters.
29. Fanny Pack With Vertical Bottle Pocket
If your man is into running, jogging, biking or any form of exercise then this fanny pack is a must have. It has a large pouch packet that can fit in smartphones, keys, wallets etc. It also has a bottle pouch that can hold up to 24 oz water bottles. Plus it comes with an adjustable strap for the perfect fit.
30. Waterfly Compact Fanny Pack
If you can looking to get your man a compact, lightweight fanny pack that can hold a lot of stuff securely then this will fit the bill perfectly. This pack is made from durable material and is waterproof so his tuff remains dry in weather any condition.
31. Omni 2k Work light
This is a powerful omnidirectional light that also comes with a power bank that he can use to charge his devices. You get 6 light modes and a magnetic attachment feature that can come in really handy. Perfect work light to carry in his car.
32. Tiny Arcade Tetris
Any old school gamer would love to get his hands on this tiny Arcade Tetris game. This piece not only looks amazing, it also works! It comes with two control buttons and a joystick so you can play the game in Hi-res screen with authentic game sounds.
33. Kalimba Thumb Piano
This is a unique musical instrument that produces some divine sounds as you flick the steel bars with your fingers. It comes with a learning booklet so your man can easily learn how to play. This can make for a really unique gift if your husband or boyfriend is into music.
34. 2.4Ghz Striker Glow-in-The-Dark RC Drone
This is a fun remote controlled drone that can lead to some fun times. The drone also has a camera but the quality is not too great. This is more of a fun toy that your man will enjoy flying.
35. Personalized Pocket Compass
This beautiful pocket compass features an equally beautiful message (so you can always find your way home) on the outer lid. You also get an option to personalize this product with a message on the inside. Perfect gift if your man travels a lot or is a outdoors guy.
36. LED Flashlight Gloves
These LED gloves can make for a really unique gift. These gloves are made of breathable cotton material and come with an adjustable strap for a snug fit. Each glove also comes with two bright LED lights. Can make for great stocking stuffers.
37. Fishing Lure
This stainless steel lure has a thoughtful message engraved on it, that says, 'You are the greatest catch of my life'. This can make for an excellent gift if your man is into fishing but even other wise, this is a fun novelty gift and is sure to make him smile.
38. 6 Piece Stainless Steel BBQ Tool Set
Any man who loves to grill will smile from ear to ear upon receiving this BBQ set as a gift on Christmas morning. This kit has a total of 16 pieces that include forks, tongs, knife, brushes, spatula, etc. all made from high quality material.
39. BenShot Bullet Glass
This popular whiskey glass has a real 0.308 bullet molded into the side that makes it look super unique and amazing. The bullet is made of solid copper and is completely lead-free which makes it safe. Would make for the perfect addition to his barware.
40. AquaDance High Pressure Shower Head and Hand Shower
Your man would love to take long showers after he installs this high pressure shower head and hand shower in the bathroom. This shower has various settings that allow for an amazing showering experience. It is also easy to install and can be attached with just three hand-tighten connections.
41. Men's Personalized Leather Bracelet
Beautiful manly leather bracelet that has three customizable sterling silver rings in the center. Perfect if your man likes wearing bracelets.
42. Philips Norelco Nose Trimmer 5000
Help your man up his grooming game by getting him this Norelco trimmer. This trimmer is designed to trim unwanted hair on your ears, nose, eyebrows, face and pretty much anywhere else in your body. It comes with a safety system that helps protect your skin from the blades. Plus, the product is water resistant and hence easy to use and clean.
43. Indoor Mini Basketball Hoop
This mini basketball set comes with an approximately 16×12-inch board and 3 mini basketballs. You also get an air pump to inflate the balls. Great gift for any basketball enthusiast.
44. Heart Shaped Jigsaw Puzzle
If you are looking to give your husband a really unique and super romantic gift, then look no further than this. This jigsaw puzzle has 10 pieces made of wood that creates a heart shape when put together.
Here's the best part: to make this special, you can complete the puzzle, write a message on it and then break it apart and give it as a gift. This way, when your man completes the puzzle, he gets to see your hidden message.
45. 148-Piece Tool Set
Tool sets can make for the perfect man gift. This set in particular comes with 148 tools that include screwdrivers, wrenches, bits, hammer, pliers, sockets and more arranged neatly in a plastic toolbox storage case.
46. Rechargeable Heated Socks
Help you man stay warm and cozy this winter by getting him these rechargeable heated socks. These socks are make from breathable, elastic material that are super comfy to wear. Plus they have 3 level temperature setting to select from for optimal heat.
47. Men's Papa Bear Slipper
These slippers can make for the perfect man gift as they come fitted with high density cushioned insole and are topped with memory form to give him the most comfortable and relaxing feeling ever. This is sure to put a smile on his face.
48. Christmas tie
You cannot go wrong with a cool looking Christmas tie like this one which is modern and stylish at the same time. This tie is made from microfiber and is very durable.
49. Fruit Infuser Water Bottle
Help your man drink more water everyday by gifting him this fruit infuser water bottle. The infuser can be filled with cut fruits of your choice that will add flavor to your water encouraging you to drink more. This is the perfect health gift for your man.
50. Waterproof Bluetooth Shower Speaker
These waterproof speakers have a 33 foot bluetooth range and allow you to listen to music, radio, audio books etc. in the shower, car, beach or pool. They pair easily with all bluetooth devices be it your phone, tablet or computer.
51. Dual Breakfast Sandwich Maker
If your man loves sandwiches then he will love this gift. This product will allow him to make his own sandwiches precisely to his liking in a matter of minutes. You also get a recipe booklet that has a host of delicious meals you can prepare in quick time using this product.
52. Waterproof Leather Desk Pad
This desk pad is a must for anyone who works on a computer. This pad is made of high quality PU leather and is waterproof so it protects his desk from scratches, stains, heat and spills. Plus, it also looks great and is large enough to accommodate a laptop, mouse and keyboard. Can also double as a writing pad.
53. Bluetooth Beanie
This is a really innovative beanie that has built-in speakers so your man can listen to music on the go. The beanie itself is made of ultra soft, elastic material and makes for a comfy wear. The speakers can be removed easily for washing.
54. Deep Kneading Electric Massager for Neck and Shoulders
This deep kneading massager comes with 8 roller balls (4 big and 4 small) that provide a deeply relaxing massage on your neck, shoulders and upper back. This product is designed to help relieve muscle tension and soreness. You can also use this massager on other body parts be it your lower back, waist or feet. Perfect gift for a massage lover.
55. Complete Beer Brewing Kit
Allow your man to brew his own beer by getting him this beer brewing kit. This is a starter kit aimed at beginners and comes with an instruction booklet and all the accessories that will allow him to brew really tasty beer with ease. If your husband is a beer lover, he will absolutely love this gift.
56. Aromatherapy Diffuser Necklace Gift Set
This beautiful gift set comes with a 27.6 inch chain, a stainless steel pendant and 4 essential oils (Lavender, Lemonsgrass, Peppermint and Sweet Orange) and 8 color washable pads. All you need to do is add a few drops of essential oil to the pad, put it in the pendant and enjoy the relaxing scents all day long.
57. 17 in 1 Professional Survival Gear Tool
If your man loves the outdoors, then he will love this 17 in 1 survival gear tool set. This set comes with all the necessary tools including a compass, flashlight, screwdrivers, sporks, wire saw, survival knife, rope bracelet, fire starter, carabiner, ruler and more.
58. All-in-1 Men's Grooming Kit
This is the only grooming kit your man will ever need. It comes with a full-size trimmer, foil shaver, nose/ear hair trimmer, hair clipper combs, beard/stubble combs and more all included in a beautiful, sturdy travel pouch.
59. Portable Car Vacuum Cleaner
This compact vacuum cleaner can be powered using your car's 23V port and is powerful enough to clean wet/dry messes in your car be it liquid spills, cigarette ashes, pet hair or mud. It comes with 3 all-purpose nozzles, a filter cleaning brush and a carrying bag.
56. Car Aromatherapy Essential Oil Diffuser
This is a compact diffuser that can be used to diffuse essential oils inside a car. This diffuser also doubles as a mini humidifier, a vaporizer and even a night lamp. Great gift if your man spends a lot of time in their car/truck.
61. Our Moments – Card Game for Couples
This is a set of 100 cards each one carrying a thought provoking question that can make for great conversation starters for couples. Great gift to have a super romantic Christmas morning or evening.
62. Why I'm Grateful for You – Fill in the Blank Journal
This book comes with many interesting 'fill in the blank' type questions that you can fill in and gift your man. This is sure to put a smile on his face and he is sure to read the answers again and again.
63. Assorted Snacks
If your man loves snacks then he will love this pack of assorted snacks from Frito-Lay. This snack pack contains a variety of snacks including Chips, Cookies, Crackers, Popcorn, Nuts, Pretzels and more.
64. Magnetic Key Ring Holder and Shelf
Does your man keep misplacing his keys? Get him this magnetic key ring holder and he will never miss them again. This holder is made from high quality wood and comes with plenty of space where he can keep his phone, credit cards, wallets, glasses, coins and other small items. It also has a magnetic base where he can easily hang all his keys.
65. Hydro Flash
This is a high quality insulated flask that keeps your cold drinks cold and hot drinks piping hot for a long duration of time. Not only is it useful but also looks great making this a lovely gift item.
66. Wireless Vertical mouse
If your husband spends a lot of time on the computer then a vertical mouse can make for a really thoughtful gift. A vertical mouse is designed to keep your hand in the natural position and hence helps reduce undue strain on the wrist which can result in pain. Plus, this mouse is wireless which adds to its usability.
67. Back-lit Keyboard And Mouse
If your man plays a lot of games on his computer then he will really appreciate this backlit keyword and mouse. This keyboard features rainbow lighting that can be adjusted to suit your preference. You also have the option to turn off the light. Both the keyboard/mouse come with many features that can aid gamers during gameplay.
68. Fire 7 Tablet
The Amazon Fire 7 Tablet comes with a fast processor and amazing IPS display for reading, browsing the web, watching videos and listening to music. It also has a 2MP front and rear camera and HD video recording. This is the perfect alternative to a Kindle.
69. Compact Binocular with Low Light Vision
This powerful binocular can make for a great gift for an outdoors guy. This binocular comes with 12x powerful magnification and can deliver clear images from more than 650 feet away. Perfect for bird watching, hunting, sports, concerts and more.
70. Portable Clip-On Cap Light
This portable light can be easily clipped on to your cap and provides powerful lighting of up to 100 Lumens. It has various settings so you can adjust the intensity of the light to your liking. Great for fishing, camping, hunting, biking and reading.
71. BattleChip Backyard Golf Game
This is a must have game for any golf enthusiast. This game comes with a 3'x2' target, hitting mat, 16 color foam balls and a carry case. As you play, you can move the hitting mat around the play area making this a really versatile game. You can play this game indoors or outdoors.
72. Man Meets Stove – Cookbook
This is the perfect cookbook for a man who has no idea how to cook. The book teaches all the basics in a fun way and also has many starter recipes to try. This book is hilarious and educational at the same time making for a great gift for any man who wants to try their hands at cooking.
73. Breathable Bamboo Rayon Boxer Briefs
Comfort meets durability with these bamboo Rayon boxer briefs. These briefs are made from 95% bamboo rayon which is a fiber extracted from bamboo. This enhances the breathability and moisture wicking features of the underwear. This underwear also feature a 3D U-Pouch for extra roominess and comfort.
74. LBell Wake Up Light
This Wake-Up Light will completely change the way your man wakes up in the morning. This light has a sunrise stimulation feature that starts with a soft light that slowly brightens the room to help you wake up in the most natural and peaceful way. You can also use this as a night light, reading light, ambiance/atmosphere light.
Considering all these cool features, this can make for a really thoughtful gift.
75. Zongs Massage Roller
Give your man the massage of his dreams with these Zongs massage roller balls. These balls are designed to give deep massages that help relive muscle soreness, remove knots and stiffness. The bottom of this roller also has a small opening where you can add your favorite massage oils or lotions.
76. Portable Nylon Hammock
Hammocks are synonymous with relaxation and for a good reason. This hammock in particular is large enough to fit two people and hence can be used as a couples hammock. It is made of durable nylon parachute fabric and is super lightweight and easy to carry around and setup.
77. Cute Dog Shaped Eyeglass/Spectacle Holder
This dog shaped eyeglass holder is cuteness exemplified. It is made of resin material and can make for the perfect gift if your man wears glasses.
78. Noise Cancelling Wireless Headphones
These noise cancelling headphones use advanced technology to tune out external noises to give you crystal clear music. It is also wireless and comes with a built-in microphone for hands-free calls.
79. Engraved 3D Moon Lamp
It doesn't get any more romantic than this beautiful 3D Moon lamp that features a romantic message on the surface. This moon lamp is touch sensitive and you can change the brightness levels and the color by touching. Perfect as a night light and as a decorative light. This is sure to put a big smile on your man's face.
80. Shotgun Shells Coaster Set
These coasters have an authentic 12-gauge shoutgun shell look and can make for great conversation starters. Your man is sure fall in love with these.
81. Handmade Leather Bound Journal
This beautiful journal has 240 lined pages that are thick and allow no bleed-through. Plus it comes in a leather wrap that adds a manly touch to the whole thing making this a perfect man gift.
82. Rehook – Bicycle Chain Fixer
If your man bikes a lot then he will love you for getting him this amazing tool. This tool helps you get your bike's chain back on in a matter of seconds. One of the best cycling accessories ever.
83. Car diagnostic tool kit
With this tool in your car you can prevent costly trips to a mechanic. The next time a check engine light glows, you can use this scanner to figure out what the problem is in a matter of seconds. A great accessory to have in your car.
84. Otter tape dispenser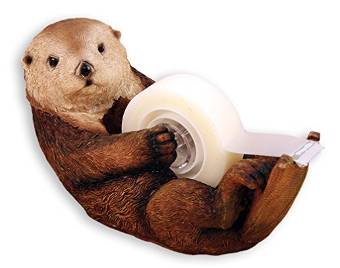 This cute and fun looking otter tape dispenser will look perfect on his work desk. And he will think of you each time he uses it.
85. Beef flowers
If your man loves beef or beef jerky, he will fall in love with this gift. This is a set of 12 100% edible beef jerky flowers (rose shaped) in a beautiful pint vase. This pint vase is reusable once the beef is gone making this an excellent gift.
86. RC Paper Airplane
With the help of this tool, you can turn your paper airplane into a remote-controlled flying machine. This plane can be controlled using your smartphone after downloading a small app. Perfect gift for anyone who loves RC toys.
87. Magnetic Wall Mounted Bottle Opener
This bottle opener has a magnetic base for catching bottle caps. It can catch up to 40 caps at a time. The best part is that this bottle opener comes with magnetic mounting so you can stick it on any ferromagnetic metal surface like your fridge. Plus, you also have a wall mounting option.
88. Ceramic Coffee Mug With Constellation Design With Golden Spoon & Tea Infuser
Exceptionally beautiful coffee mug that you can buy displaying your man's constellation and zodiac sign. Each cup comes with a golden spoon and a golden tea infuser. Perfect gift for a coffee lover.
89. Cufflinks & Tie Bar with Personalized Initials
This set of men's jewelry includes a pair of cufflinks, tie bar and money clip. The best part is that you can buy these with a custom engraved letter which can be your husband's initials.
90. Fast Draw Drill Holster
This is the perfect drill pouch that has various pockets to hold a bunch of tools like pliers, screwdrivers, wire cutters, drill bits and more along with a drill. It comes with an opening on the back so it can be easily attached to the belt or a tool belt. Great gift for a handyman.
91. Anti-Slip Streeing Wheel Cover
This cool steering wheel cover is made from microfiber leather and is great to touch and feel. It feels warm in winter and cool in summer. It has sweat proof, anti-skidding and sweat resistant properties so you can have better control on the road. Perfect for a man who drives a lot.
92. Leather Hand Pouch For Men
Made of soft leather, this men's pouch comes plenty of storage room to carry and his manly accessories. It has 2 main pockets, a zipper pocket and a front magnetic pocket.
93. 24-Piece Wrench Set
This is a set of 24 neatly organized wrenches that are easy to identify and use. The wrenches are made of high quality steel that make them tough, waterproof and rustproof. Perfect for a handyman.
94. DILF Mug
If your husband is a coffee/tea lover, then he will love this funny DILF mug that also has an appreciative message.
95. Natural Bamboo Wood Charging Station
Charging multiple devices at the same time can create a huge mess. This product has neatly arranged slots that is designed to help take the mess out of charging. It can hold 5 smartphones or tablets and comes with anti-slip rubber legs so your devices remain safe.
96. Hip Flash Gift Set
This beautiful hip flash set comes with a stainless steel flash, two shot glasses and one funnel for easy pouring.
Perfect gift set for any man.
97. Universal Socket Wrench
This tool comes with spring pins that automatically adjust themselves to fit a variety of nuts, bolts and hexes. You also get an adapter that turns a standard drill into a socket driver. If your husband is a handyman, he is sure to love you for getting him this tool.
98. Titanium Key Chain with Carabiner, Bottle Opener and Wrenches
This Titanium key chain is light weight and comes with useful tools like a bottle opener, tape cutter, scorer, screwdriver, pry tool and a handy carabiner.
99. Yoda Tie
If your husband is a Star Wars fan, then he will love this Yoda tie. This is a 100% Polyester tie patterned with repeating Yoda head.
100. 3D Wooden Truck Puzzle
Any puzzler lover would love to get their hands on this amazing 3D puzzle. The pieces in this puzzle are made of wood and they lock together easily without the need for any glue. This one is particular would make for a great gift for a truck enthusiast.